Sooo, I've been on a mini blog-hiatus over the past week. I've been incredibly busy and was basically in a life "rut." I'm one of those people that usually has a story everywhere I go. It's like someone is getting a kick out of making me a klutzy idiot. Lately, I've had no funny stories because I came to realize how incredibly boring my life has gotten. It's like Deja Vu . . .
That was until this past Sunday. My Mom and Fiancé talked me into going to this local wedding show. It's pretty much the biggest one around here. Reluctant to be around hundreds of annoying Bridezillas, I started getting ready.
As I was straightening my hair, the straighter catches on fire and sparks go EVERYWHERE!!!! There is even a huge burn mark on my shirt. I go running out of the bathroom screaming because I'm deathly afraid of fire and at this point I still think my hair is burning in flames. Did I mention I left the bathroom door open while the man is half naked and my mom is downstairs??!!??


My hair was fine. My breakfast wasn't. . .
I had heated up a Weight Watchers breakfast sandwich, which I left on my makeup vanity in the bedroom. As I come running in like a screaming banshee (b/c I thought my hair was on fire), I realize that it's MISSING!!!!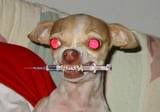 Chuy, my Chihuahua, was eating it under my bed and he would not come out! In fact, he pretty much turned into a demon anytime I tried to grab him. The little 6 pound monster devoured my 5 point breakfast…eggs, cheese, ham, and all!
By the time I am ready to leave, I'm a sweaty, frazzled, hot mess! I must say the show was GORGEOUS! They had lots of vendors and the set up was just amazing.
It was worth the morning circus show!
So, on to the point right? At the end of the show they did a grand prize drawing for a "Wedding in Style." Well, yours truly was the winner!!!! I have never won anything before. I turned into that crazy lady on the Price is Right when they called my number! I was crying, shaking, screaming, running, jumping . . . in front of hundreds of people! Soooo, what does this include?


A full service wedding planner from start to finish.

An event designer to design and provide all my reception décor.

The Cake

The Tuxes

The Flowers

Bridal Brunch

Ice Art

DJ Services

Photoshoot

Makeup

Monograms

Teeth Whitening

Zerona Treatments – Yea, this is probably my favorite and I would have been 300% content winning this baby! I cannot wait to share how this goes with you all! This is a laser "lipo" procedure that shrinks fat cells over a series of treatments (6) without surgery and there is no healing time.

Golf

Hotel Stay

Plus, a ton of other awesome goodies!!!!

This came at the best possible time ever. I've actually been down in the dumps about how we were even going to pay for anything for this wedding. My parents and my family have been going through some tough times, so they had the same concerns. I feel so blessed and this "rut" that I was in has gone away!


I am looking forward to blogging regularly again, I went back to Weight Watchers on Monday and will be posting a weekly weigh-in blog too. I also would love to post a weekly update on the wedding plans with my Fusband.


Sooo, my gorgeous cupcakes. Sorry for the rambling but I just had to get all of this off my chest and let you know I am here and I'll be back on the regular!


I hope you all are doing great. Drop me a comment and let me know how it's going!